This Brown Rice Salad with Nuts and Dried Fruit can be served warm or chilled and is a perfect side dish for dinner or a cookout. It can be prepared in advance to save you time when guests are over!
This recipe is sponsored by Pomora, whose delicious olive oils I can't get enough of! Scroll down to read about their 'adopt an olive tree' concept, where you can visit your olive tree in Italy!
This post contains affiliate links, which means that Babaganosh gets a small commission if you purchase anything through these links. This is at no extra cost to you, and is a great way to support this blog so I can keep posting delicious recipes!
This little guy has been taking up the majority of my time in the last month. Blog, meet Elliot. Elliot, meet blog.
The first couple of weeks after Elliot was born were a complete blur. Now we are starting to get into some kind of routine – or at least I like to think so even though in reality Elliot is the one in control.
The great thing about having a baby is that everyone brings lots of food when they first come visit! The bad part is that people stop bringing food after a couple of weeks, but they still keep visiting. So we've been on our own for food the last couple of weeks. We've been going back to all my "30 minutes or less" recipes regularly, and when we cook we always make sure there is enough for leftovers for the next day.
For example, when we make rice, we make a LOT of it, so that the next day we can turn it into 10 minute fried rice, or into this gorgeous Brown Rice Salad with Nuts and Dried Fruit:
Every bite of the rice salad is a perfect mix of crunchy almonds, delicious dried  apricots, cranberries, and raisins, and fresh herbs. I dressed the salad with a simple lemon & olive oil dressing that goes perfectly with the salad.
One of the best things about this rice salad is that it can be served warm, room temperature, or cold. So you can make it with freshly made rice for a warm salad the first day, and then let the flavors infuse overnight and serve it at room temperature another time. It's a great salad for a summer cookout or a party because it can be prepared in advanced and save you time when your guests are here. And it is just so festive and gorgeous to look at, with the dried fruit trio and fresh herbs.
For the lemon & olive oil dressing in this brown rice salad, I used the Pomora extra virgin olive oil. It has such a wonderful, fresh flavor that is perfect for dressings and for finishing dishes. Not only are Pomora olive oils amazing in taste, but the concept behind the company is pretty cool too: You adopt an olive tree in Italy, and get fresh olive oils sent to you four times a year – just in time for when you run out of olive oil. Each shipment contains different olive oils – including infused flavored olive oils such as lemon, basil, rosemary, and my favorite: truffle. I love truffle everything.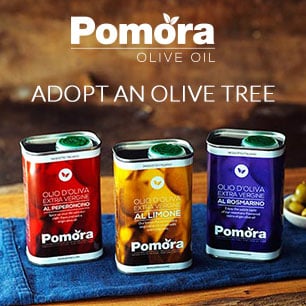 When you
adopt your olive tree
, you get sent an adoption certificate with information about your olive tree. It's sort of like one of those things where you adopt a sloth in Costa Rica or name a cockroach at the Bronx Zoo (yes, that's a thing!), except you actually 
get
something for your olive tree adoption. So if you like knowing where your food comes from and like receiving fun packages in the mail,
Pomora
olive oils are a great way to treat yourself to some really nice olive oils. I personally love reading about the growers who produced my olive oil, and love having some sort of connection to it. You can even contact the folks at Pomora and arrange for a visit to the farm to see your adopted olive tree – if you're looking for an excuse to take a trip to Italy. 😉
The olive oils make a great gift for those who appreciate a good quality olive oil for their cooking. The package comes with gorgeous recipe cards too – they are great for more inspiration on how to use the olive oils.
Once you receive your Pomora olive oils, I hope you come back to this recipe to try this brown rice salad. I used the extra virgin olive oil in this recipe, but the lemon olive oil from Pomora would be perfect here also – it would give the whole salad a whole other level of lemony flavor goodness.
Check out the Pomora website to learn more about their olive oils.
Brown Rice Salad with Nuts and Dried Fruit
Ingredients
Instructions
In a medium pan, toast the slivered almonds over medium heat for about 5 minutes, or until the almonds start to turn golden brown. Remove from heat.
Chop the apricots into small pieces the size of raisins.
Combine all the ingredients in a large bowl and mix well. Serve warm or chilled.
https://www.babaganosh.org/brown-rice-salad-nuts-dried-fruit/
Kitchen stuff used in this recipe {affiliate links}: