This shop has been compensated by Collective Bias, Inc. and its advertiser. All opinions are mine alone. #CampbellsShortcutMeals #CollectiveBias
This 3 ingredient Chicken Salad is perfect in a sandwich or as a cracker topping for busy families. Grab all the ingredients for the salad during your next shopping trip to Walmart.
After a long 9+ months of waiting, Aldo and I were blessed with a perfect, healthy, squishy-faced little baby boy named Elliot! The last few weeks have been a big blur for us, in a good way. We are all very happy – at least Aldo and I are – I can't speak for the little bugger but I am assuming he is happy too, considering he is eating non-stop and sleeping a ton. We feel very lucky.
I also feel lucky that Aldo was able to take off 3 weeks from work to be home during this special time – unfortunately that is not typical at all for new fathers. Yesterday was his first day back at work, and my first day home alone with Elliot. Taking care of a baby is a lot more tiring when you are home alone! But everything went well, and we all have somewhat of a routine by now. Let's hope I didn't just jinx everything. ;p
Aldo and I typically pack our lunches for work and eat homemade food for dinner, so as part of getting back into a routine we wanted to continue doing that. We're starting with recipes that are easy to make, and are filling and energizing. Before Aldo's first day back at work, I made this chicken salad for Aldo to pack for lunch as a sandwich, and for me to eat at home in between taking care of Elliot. The chicken salad takes less than 5 minutes to make and contains just 3 main ingredients.
This chicken salad would be absolutely perfect for busy families during the back to school season. It is a great lunch for both kids and adults, and can be served as a quick weeknight dinner as well. It is also a great after-school snack for everyone in between sports and other activities.
The trick to this flavorful chicken salad is adding salsa and mayo to cooked, ready to eat Swanson® Premium Chicken. That's it! The Pace® salsa adds a kick of genuine Southwest flavor. I love using salsa in actual recipes instead of just as a dip for tortilla chips. The mayo adds a bit of creaminess to the chicken salad. If  you want, you can also add a bit of parsley and freshly ground black pepper to the salad, but it is really good even without that!
The Swanson® Premium Chicken is perfect for a quick meal because it is heart healthy, low fat, and makes for a filling, protein-rich meal. This is just what we need during this busy time when the whole day goes by in a blur. For Aldo's lunch I pack a can of V8 + Energy®: it contains a serving of fruits and veggies and provides some natural energy from green tea. I myself have the V8 Splash® to get some extra vitamins in me – I would love some of that green tea energy, but I trying to avoid caffeine so I can fit in a nap while Elliot naps.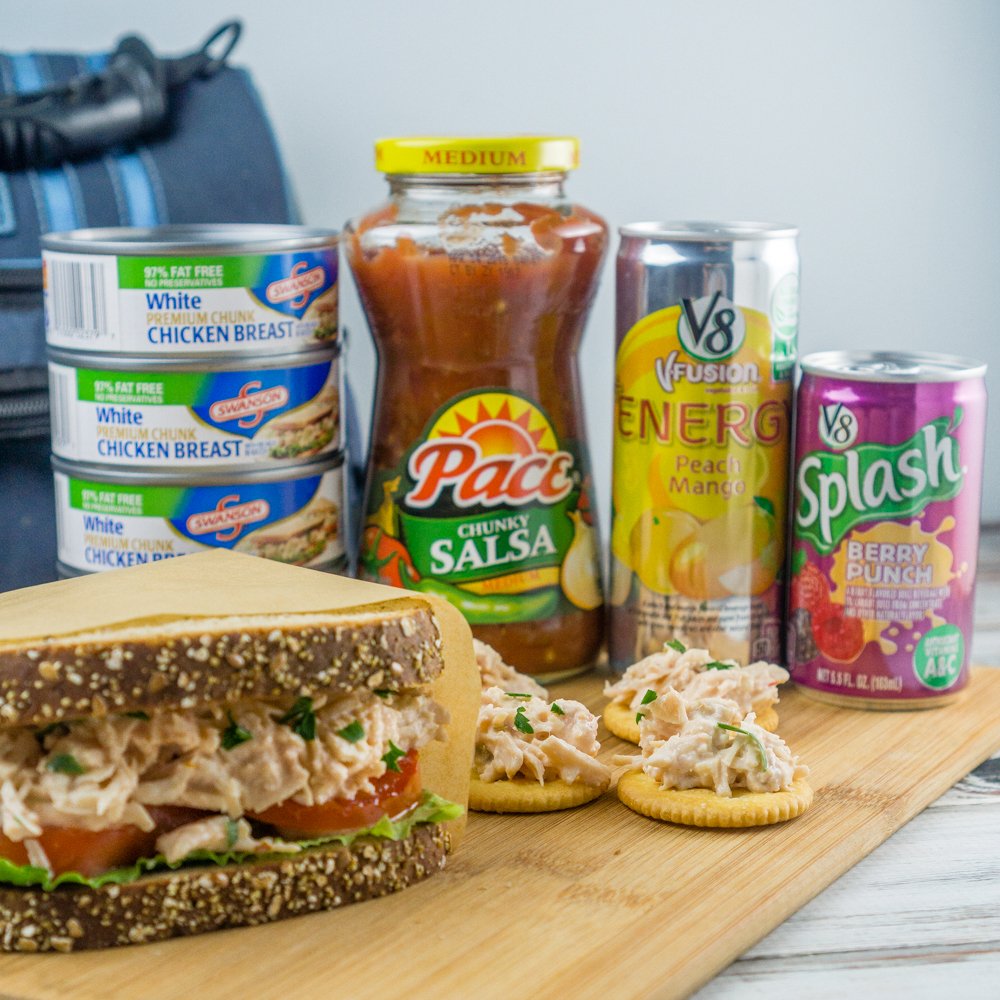 Ready to shop for delicious ingredients for this quick chicken salad? Hover over the photo to click through to Walmart.com and purchase them!
All the ingredients for this 3 ingredient Chicken Salad can be found in Walmart. And don't forget to swing by the juice aisle to grab the V8+ Energy®  and V8 Splash®!
3 Ingredient Chicken Salad
Ingredients
4 (4.5-oz) cans

Swanson®

Premium Chicken
2 tablespoons mayonnaise
2 tablespoons medium chunky

Pace®

salsa
Optional: 1 tablespoon parsley leaves, chopped
Optional: Freshly ground black pepper, to taste
Instructions
Drain the canned chicken in a colander. In a large bowl, combine all the ingredients and mix well. Serve immediately in a sandwich or as a topping for crackers or salad, or store in the refrigerator until ready to use.
https://www.babaganosh.org/3-ingredient-chicken-salad/
If you enjoyed this recipe, please follow Babaganosh on social media: