This shop has been compensated by Collective Bias, Inc. and its advertiser.  All opinions are mine alone. #VeggieSummerGrilling #CollectiveBias
Grill up these crispy yummy Grilled Naan Pizzas for your next cookout! 
Follow the ibotta link below and make these Grilled Naan Pizzas with MorningStar Farms® Veggie Pulled Pork:
How do ya'll feel about Meatless Mondays? I'm a big fan! Sometimes my Meatless Mondays don't always happen on a Monday (hey, no one's perfect!), but I usually skip meat for a day or two every week. It just kind of happens that way, since choosing between chicken/beef/pork/seafood can get old and there are so many recipes you can make with vegetarian ingredients.
I've expanded my non-meaty cooking to the grill, and I am loving it! It's a great change from kebabs/burgers/steaks (though don't get me wrong, I still love those).
If you've never grilled pizza, you're in for a treat. The crust comes out so crispy and toasty, and it is strong enough to hold a lot of toppings without breaking. Yum. Of course you can make pizza dough from scratch and grill it, but if you want to do things the easy way, use naan bread. I make naan pizza all the time since it is so easy and delicious (see my Naan Shrimp Pizza, Garlic Naan Tikka Masala Pizza), but this time I decided to try naan pizza on the grill for a shortcut to grilled pizza.
And it worked beautifully!
I topped these Grilled Naan Pizzas with the classics – marinara sauce and mozzarella – and with a little something special – BBQ sauce and MorningStar Farms® Veggie Pulled Pork. The Veggie Pulled Pork is new from MorningStar Farms and I am loving it for easy cooking. It is lightly seasoned so it can be adapted for many recipes with different sauces and spices, and it is super easy to use. For this pizza, I pulled it out straight from the freezer and did not have to defrost first. The Veggie Pulled Pork is great for quicker and healthier recipes, and you can use it as you would use meat in many recipes – it is not just for vegetarians.
We ate the Grilled Naan Pizza with some grilled vegetables and with grilled MorningStar Farms® Spicy Black Bean Burgers. The burgers are also super versatile and are great topped with the usual lettuce & tomato, but also with salsa & avocado, or roasted peppers & onions. MorningStar Farms® Spicy Black Bean Burger is America's #1 veggie burger, and it grills up wonderfully!
So look for the green MorningStar Farms packaging at Walmart and add some vegetarian options to your next grilling menu! Or just click the image below to shop right from home: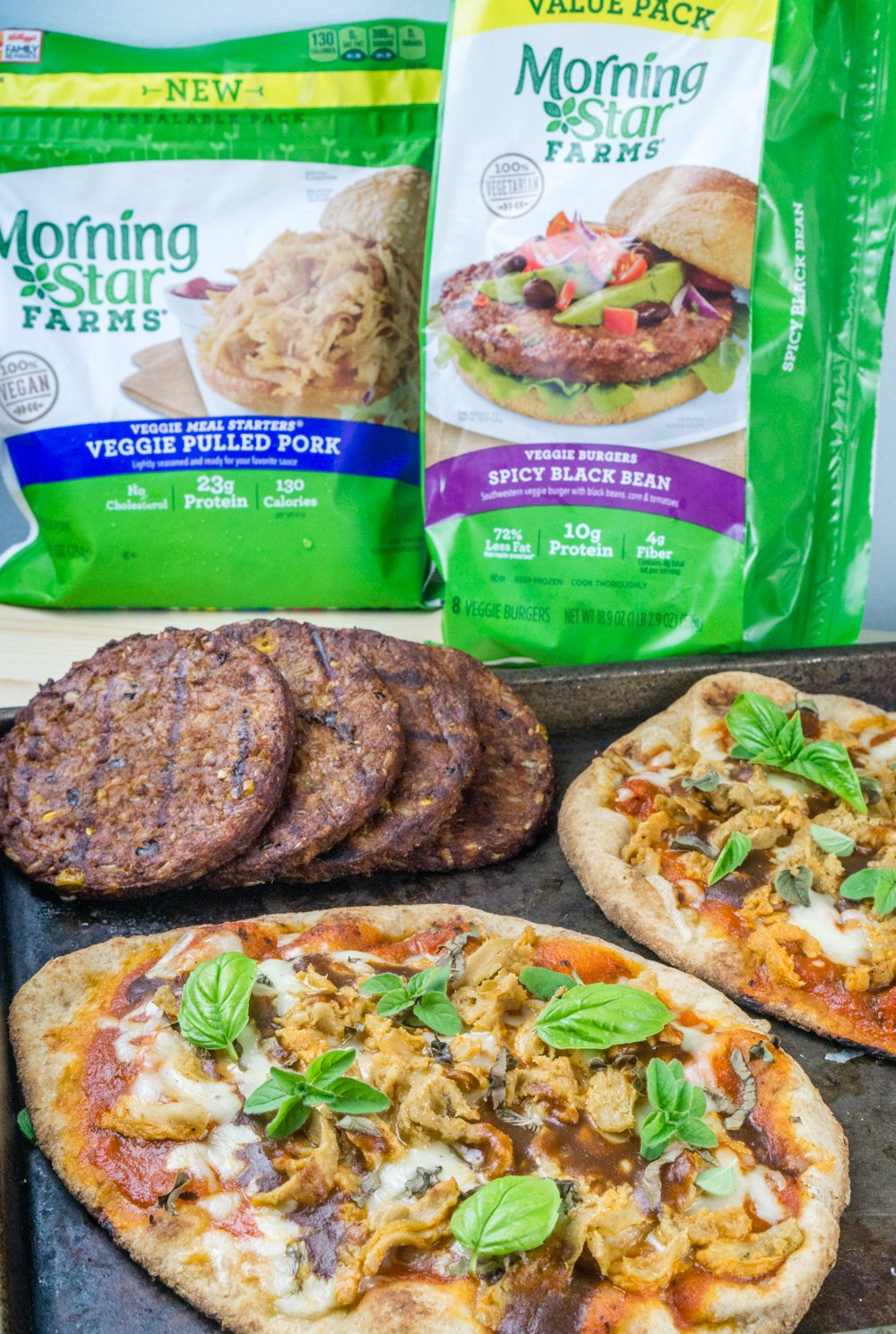 Are you a grilled pizza fan? Do you love grilling veggie cuisine?
Tell me about it in a comment below!
Ingredients
2 Naan breads
1/2 cup pizza sauce
1 cup shredded mozzarella cheese
1 cup Veggie Pulled Pork (frozen)
4-6 tablespoons barbecue sauce
2 tablespoons fresh herbs, such as oregano or basil
Instructions
Preheat your grill to about 375 - 400F.
Assemble the pizzas by topping each naan bread with about 1/4 cup pizza sauce, 1/2 cup shredded mozzarella cheese, and 1/2 cup Veggie Pulled Pork. Drizzle about 2-3 tablespoons barbecue sauce on each pizza, add half of the fresh herbs, and carefully place on the grill.
Cover the grill, and cook for about 10 minutes at about 375-400 F (medium/low heat), or until the cheese melts and the naan bread is crispy. Remove from the grill and garnish with the remaining fresh herbs. Serve immediately.
https://www.babaganosh.org/grilled-naan-pizza/