I am excited to bring you another deeelicious recipe sponsored by Pomora Olive Oils. This post contains affiliate links – using these links to shop is a great way to support this blog without any extra cost to you. All opinions are my own.
Earlier in the summer I posted a recipe for this Crunchy Brown Rice Salad with a Trio of Dried Fruits that has a super fresh, flavorful olive oil + lemon juice dressing. Check it out, trust me!
This time I wanted to share more of a snacky type of recipe, so this Pesto and Burst Tomato Crostini was a no-brainer with all the fresh tomatoes and basil available during the summer.
The lemony pesto that is used for this recipe is SO GOOD and addicting – I use it on everything lately. Add the pesto to warm, toasted crusty bread and top with sweet, juicy tomatoes and it is even better. Drizzle some balsamic glaze over it all? Every bite is perfection.
This crostini appetizer is very easy to make and would definitely impress your guests, if you choose to share it with others. 😉
This kind of recipe with simple ingredients requires really fresh and high quality ingredients, which is why I love picking fresh basil from my herb garden and using tomatoes that are in season now. Using a super high quality extra virgin olive oil for the pesto is also a must to get a really fresh, delicious, true olive flavor in the pesto. I used Pomora's extra virgin olio nuovo, which is their youngest, freshest oil. It is bottled immediately after harvest which maximizes its flavor and really makes a huge difference in the flavor of the pesto.
I am not just saying all this – Aldo and I did a blind taste test with Pomora's olio nuovo and two other freshly opened extra virgin olive oils, and the Pomora one had the best flavor. I don't know the fancy culinary words to describe olive oil flavors, but Pomora's extra virgin olio nuovo olive oils were the only ones that I wanted to dip bread into without adding any spices, herbs, salts, etc. – it was so good and fresh!
Oh, and the lemon flavored olive oil in the photo above? YUM.
The way to get your hands on some Pomora olive oils is also pretty cool – you adopt and olive tree in Italy (yes, Italy!) and you receive shipments of 3 olive oils every quarter – just when you're about to run out 😉 ). Every shipment is different, so you get to try all their classic and flavored olive oils. It's an awesome gift to yourself or to someone else who appreciates the good things in life and loves to receive fun packages in the mail throughout the year. Each shipment comes with gorgeous recipe cards for inspiration. I know ya'll food bloggers don't need recipe cards, but they do help make the package a nice gift for someone who enjoys cooking but might need some recipe ideas.
The owners are also super cool and will gladly email you lots of information about their olive oils, you can tell they are passionate about this. And if you want, you can even VISIT YOUR OLIVE TREE in Italy – just contact them and let them know you are interested in a visit to the farm. How cool is that?!
With the holiday season coming up, I would highly recommend that you make this crostini with a high quality extra virgin olio nuovo to really bring out all the flavors of the pesto and roasted tomatoes.
Ready to try some olive oil??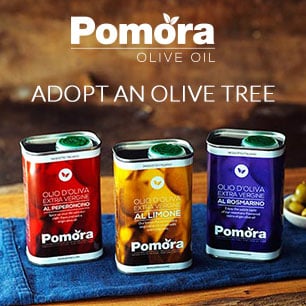 Pesto and Burst Tomato Crostini with Balsamic Glaze
Ingredients
Classic Lemony Pesto:

1 cup fresh basil leaves (from 1 large bunch)
1/4 cup high quality extra virgin olive oil
1/4 cup freshly grated Parmesan
1/4 cup toasted pine nuts
1 garlic clove
Zest of 1 lemon
Juice of 1/2 lemon
1/4 tsp kosher salt
Freshly ground black pepper, to taste

Burst Tomatoes:

1 cup cherry or grape tomatoes
1 tablespoon extra virgin olive oil
Salt & pepper, to taste

Crostini:

1 French baguette, sliced into 1 inch slices
2 tablespoons extra virgin olive oil
2-3 teaspoon balsamic glaze
Instructions
Preheat oven to 400F.
Combine all the ingredients for the pesto in a small food processor, and pulse for a few seconds until well combined. Taste and see if more salt or lemon juice is needed.
Toss the tomatoes in olive oil and season lightly with salt & pepper. Roast in the oven for about 10 minutes, or until tomatoes start to split and release juices.
Brush the baguette slices with olive oil and toast in the oven at 400F for about 3 minutes. Remove from heat.
To assemble the crostini: add about 1/2 - 3/4 teaspoon pesto to each slice of bread. Top each slide with 2-3 burst tomatoes. Drizzle with balsamic glaze. Serve warm immediately.
https://www.babaganosh.org/pesto-burst-tomato-crostini-balsamic-glaze/
Check out this Brown Rice Salad made with Pomora's Olio Nuovo: